THAMES CITY ENLISTS HARRODS INTERIOR DESIGN TO UNVEIL ITS FIRST SKY COLLECTION SHOW APARTMENT
SKY COLLECTION SHOW APARTMENT
This elegant five-bedroom home forms a handful of premium properties now launched in this prime London neighbourhood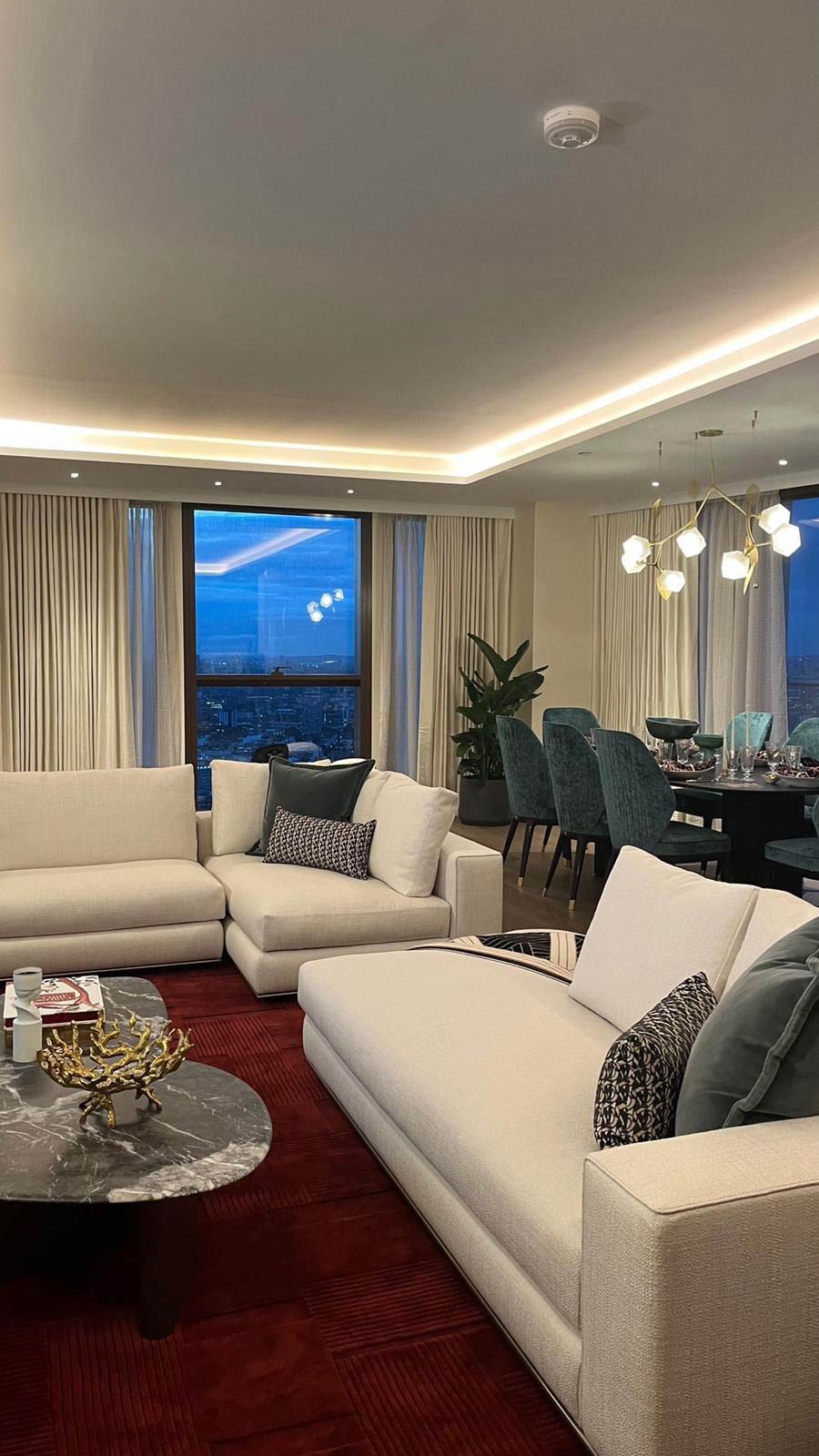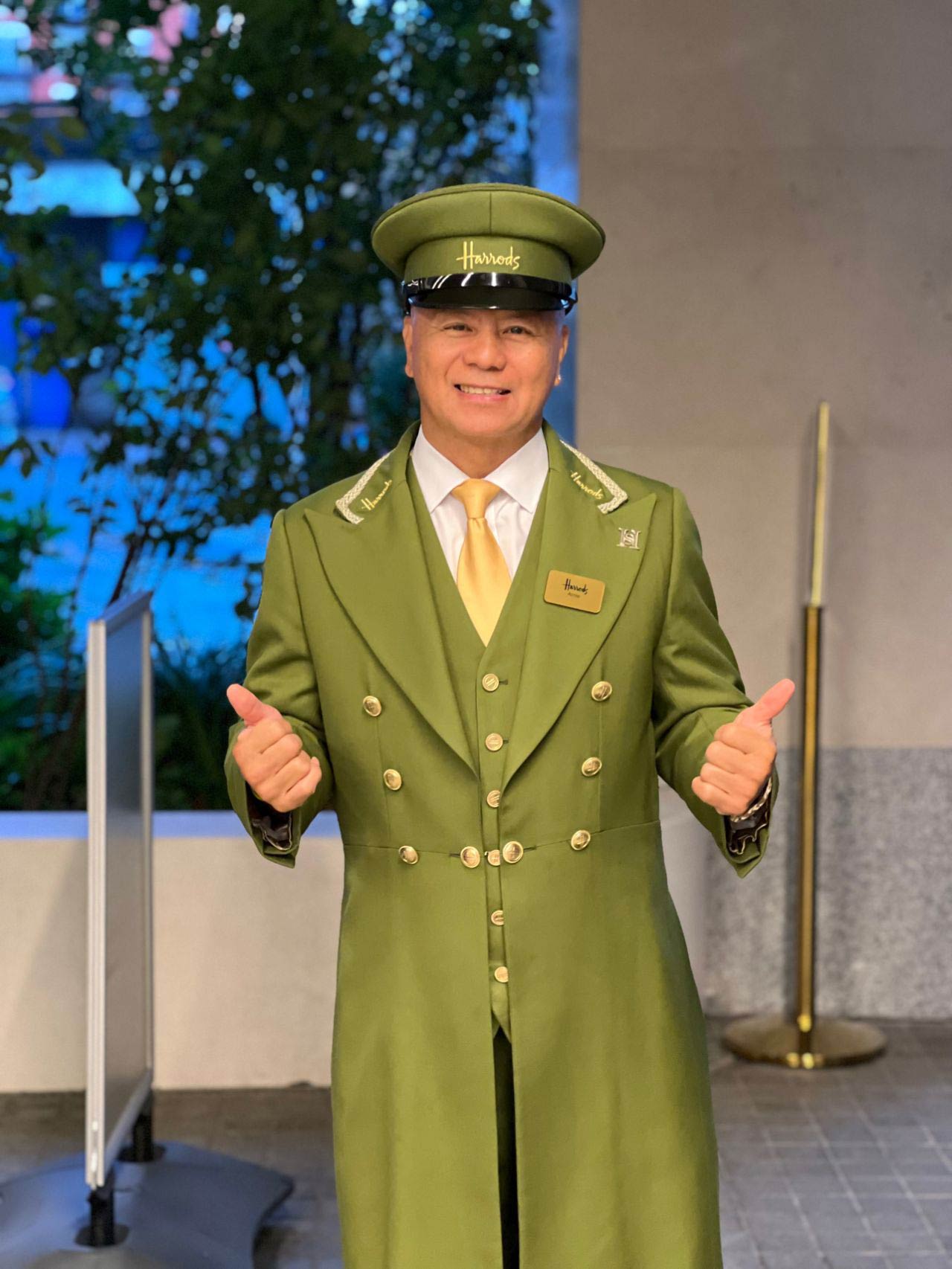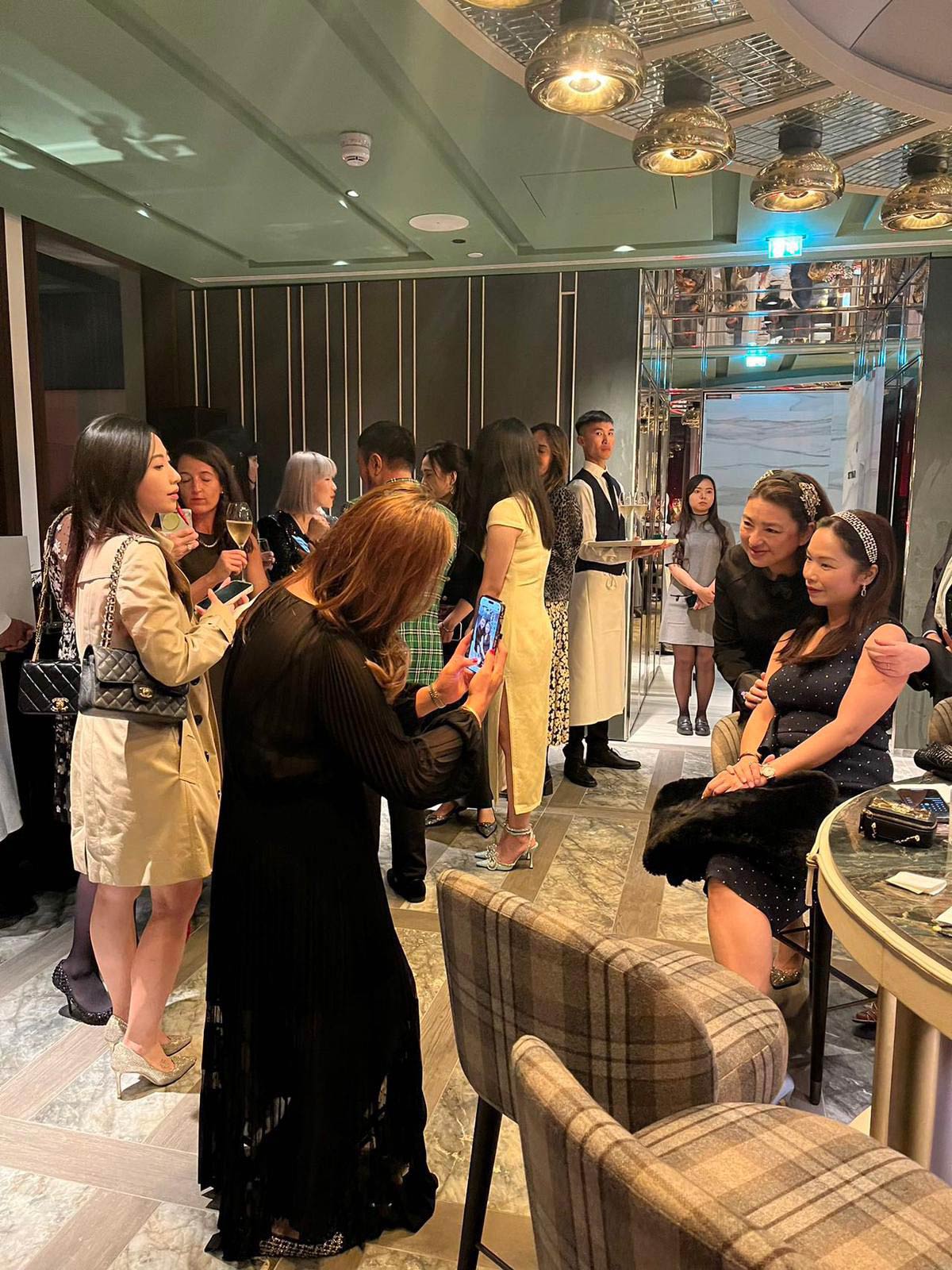 Delivered by R&F Properties (UK) and C C Land (UK), Thames City, London's newest prime riverside address, has partnered with the quintessentially British luxury interior design studio Harrods Interior Design to unveil its first Sky Collection apartment. Forming a handful of bespoke residences, these exclusive homes are located within the premium floors of the neighbourhood's 53-story buildingin Nine Elms.
Situated on the 41st floor, this spacious, open-plan five-bedroom residence is set across 2,693 sq ft with floor-to-ceiling windows. Itoffer panoramic river views whilstoverlooking key London landmarks. Completed to the highest possible specification, these new homes are set on a base interior colour palette, which comprises of luxurious embossed wallpaper, marble accents juxtaposed against dark bronze detailing and contemporary wood flooring, which has all together added a superior richness throughout.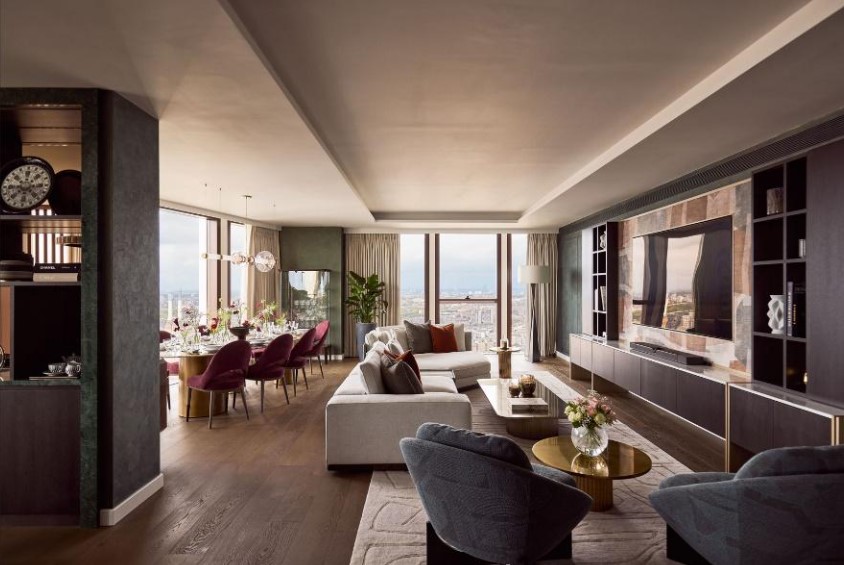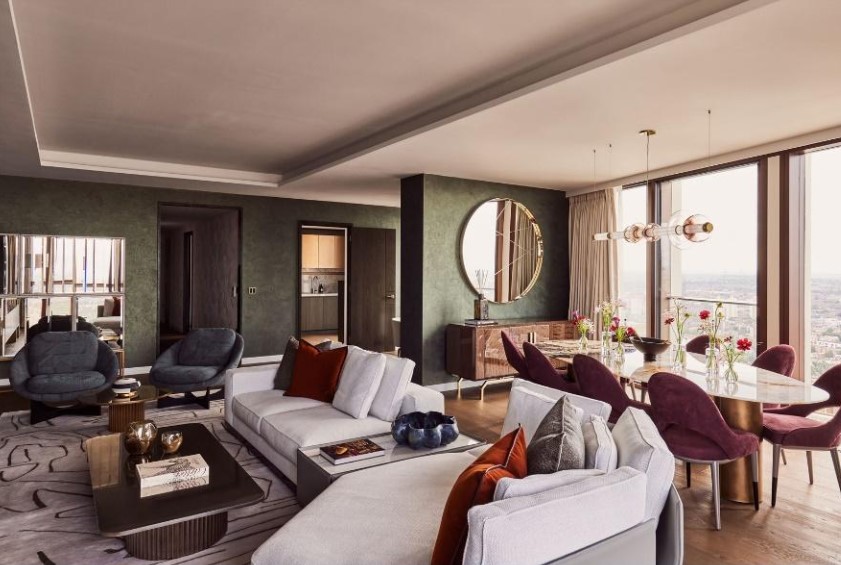 Benefiting the local area, the Thames City portion of the park will play an instrumental role in unifying connections between Vauxhall transport interchange to the east, through to Battersea Power Station and Battersea Park to the west, and to the wider regeneration of the area. Nine Elms Park offers residents and visitors a greener, alternative route through which to commute, exercise and convene.
Bespoke interiors for this apartment have been artfully curated by Harrods Interior Design to interlace the modernist movement of the art world, in homage to the nearby Tate Britain gallery. The interior vision for the residence unites the two distinguished – yet differing –design districts of classic Pimlico and eclectic Nine Elms to create a residence that boldly illustrates skyline living.
In its design, geometric shapes, line and composition are supported by complimentary colour tones built up with light and dark hues. Elegantly layered furnishings have been carefully selected alongside sculptural forms, inspired by Henry Moore's sculpture of human form, artistic sketches, and abstract paintings inspired by English painter Helen Saunders.
Ushering in a new fashion to a destination historically steeped in cultural history, Harrods Interior Design has integrated a sophisticated mix of accessories throughout, from premium brands including: Baobab, Cristofle, De La Cuona, L'Objet, Soho Home, Harrods of London, Baccarat, Ralph Lauren, Yves Delorme, Cire Trudon, and Prada.
Making an entrance
Upon entering this grand apartment, residents are guided through a welcoming and light-filled entrance, which naturally separates social spaces from private living quarters. Evoking a subtle sense of movement from one space into the next - similar to that of the River Thames, which this riverside apartment overlooks - tactile textures, shapes and materials have been utilised to heighten both design and experience. Within the entrance hall, a soft grey and shimmering feature wallpaper adds grandeur and elegance to ensure each detail of this apartment is considered.
Defining the art of living
Leveraging the art of space and zoning, the living and dining areas of this home allows for both formal and informal dining, entertaining and relaxation.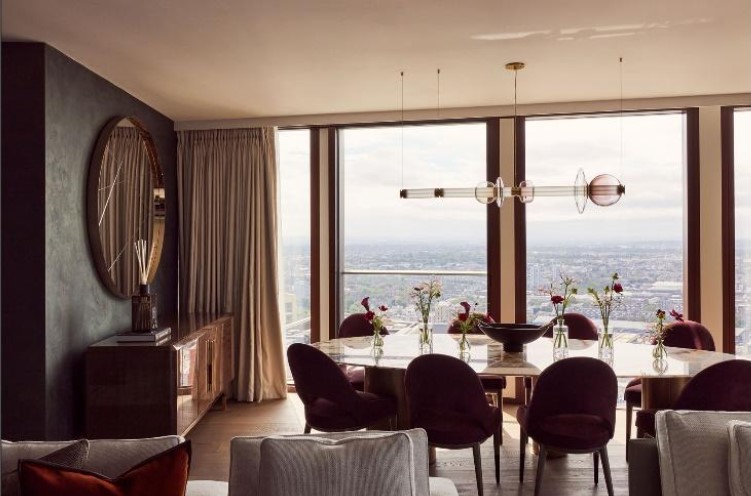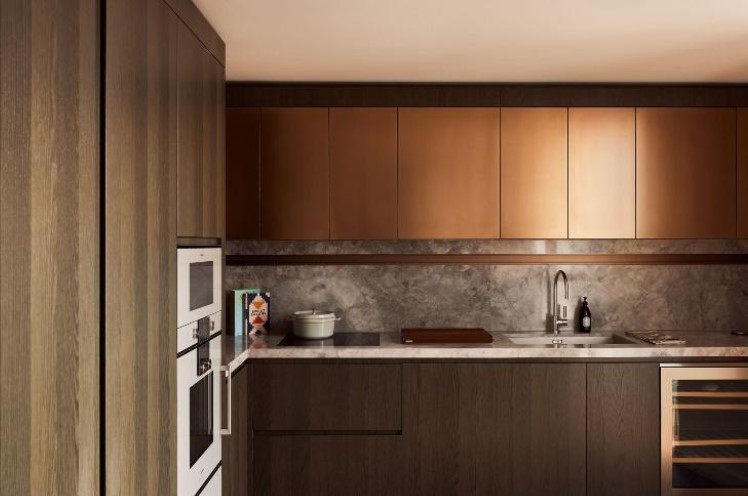 Organic and geometric forms, such as an asymmetric low-backed sofa to provide uninterrupted views across the living space to Battersea Power Station, effortlessly collide with modernist art forms to configure an elite design narrative and timeless renaissance.
An impressive eight-person formal dining table – beautifully crafted with a organically shaped Patagonia marble top – is surrounded by plush burgundy velvet upholstered dining chairs, centred underneath a delicate coloured glass-blown chandelier. Adding a sense of traditional to this modernist setting, display cabinets housing glassware and trinkets – envisioned to have been collected overtime from the owners worldly travels - flank either side of this superior dining statement. Although high in the sky, sheer fabric and opulent curtains add to the luxurious feel of the room, allowing a sense of privacy.
In contrast, an informal dining lounge area blends inspiration from new worlds with traditional – and to create a more intimate area with Polished bronze, ornate alabaster, verde alpi marble and burr walnut timber finishes.
With London's finest culinary and cosmopolitan enclaves at every turn of this central neighbourhood's doorstep, the modern kitchen allows for beauty, efficiency and functionality, to coexist in equal measures. Sleek in design, embossed with brushed bronze fixtures and fittings, these Sky Collection apartments each come with integrated Gaggenau appliances for everyday essentials.
Sky-Line dreaming
Transitioning into the private living quarters, the master bedroom, situated furthest from the entertaining space, is a sanctuary in the Sky. Cornered with spectacular views across the prime London landscape, the master bed – cloud like in design and feel – is furnished with soft pillowing materials and layers to exude elegance. Textured and partially gilded wallpaper panelling, intricate metal detailing and leather and marble furniture further elevate the elegance of this Sky Collection apartment's primary room. Additional family and guest bedrooms, each unique in design and personality, offer a distinguished design reflecting the newest trends.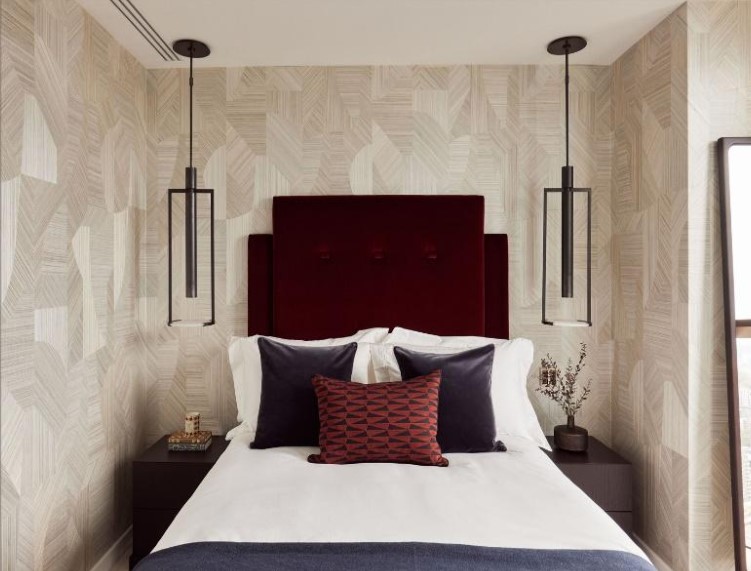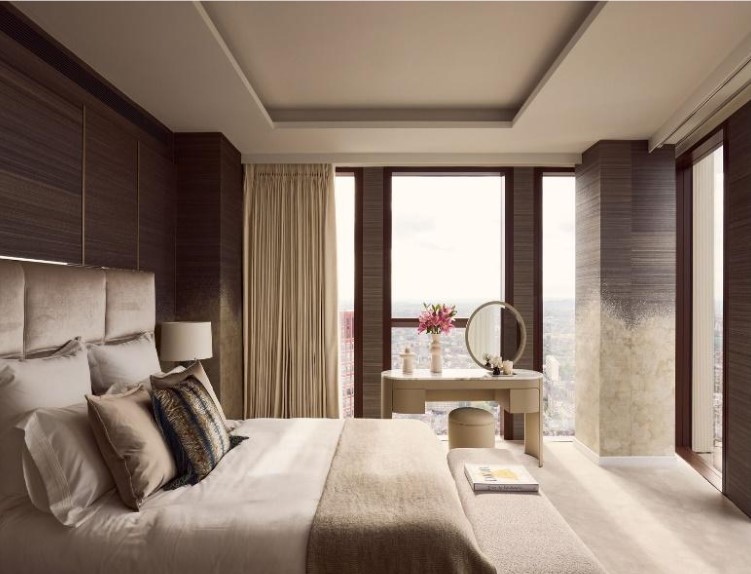 An intimate study, tucked away for privacy, is complete with black anodised aluminium, bright brass details and tempered black smoked 'grigio Italia glass shelves. At its centre, a handcrafted and bespoke Potrona Frau desk – inspired by the world of Japanese calligraphy – creates a serious tone for the place of business and personal affairs.
The Sky Collection at Thames City comprises of a handful of premium properties in No. 8 Thames City, one of London's tallest residential buildings. Designed by international architects Skidmore, Owings & Merrill (notably famed for the world's tallest building, the Burj Khalifa), these new homes are set across No.8 Thames City's upper floors, Levels 39 – 53, offering 2.9m floor-to-ceiling windows, seamlessly integrated appliances, air-cooling systems, underfloor heating and complete with base interiors by HBA Residential.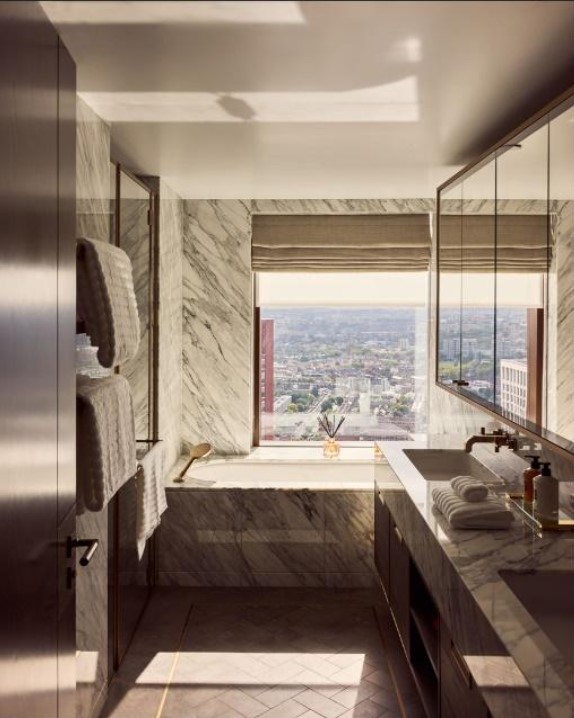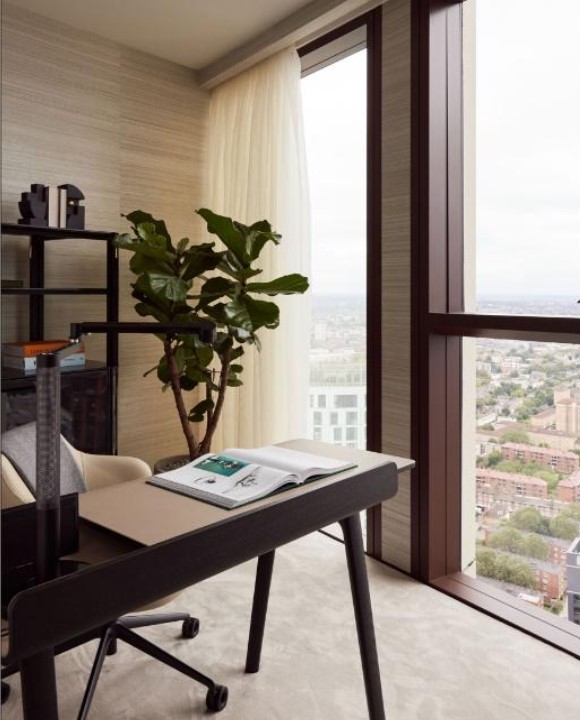 Enna Luo, Sales & Marketing Director at Thames City
Our Sky Collection residences at Thames City are some of London's newest, tallest and most prestigious prime homes currently on the market. Reaching new heights and matching exceptional design expectations with a distinct and sought-after style of living, our team of global experts and collaborators have championed capital living on a world stage."

Bringing international craftsmanship, with a quintessentially British flair, Harrods Interior Design has beautifully curated a home that resonates with our clientele and their creative expressions. The iconic brand is steeped in significant history and heritage, yet - much like our truly unique and growing riverside location – is perfectly adapting to new generational demands of luxury, quality and inquisitive artistic energy. It has been incredible to see Harrods Interior Design apply layers of cultural inspiration alongside meticulous attention to detail to the first unveiling of our Sky Collection homes."
Letitia Fitzgibbon, Head of Interior Design, Harrods Interior Design
"It has been a pleasure to work with Thames City on their Sky collection apartments which feature beautiful finishes throughout and have some of most far reaching views across London. Throughout the apartment our objective was to highlight and enhance the views whilst referencing the iconic British artists that inspired the interior, to create a luxurious space becoming of this new and exciting community."
A new landmark for London living | Thames City currently comprises over 400 brand new premium one-to-five-bedroom apartments across No 8 and No 9 Thames City – the first two of 12 buildings – to be delivered by R&F Properties (UK) in Nine Elms.
Setting new standards for high end living, residents also have exclusive access to a 6,400 square metre private members club. Surpassing expectations of a five-star hotel, the 1974 Club is home to some of the most prestigious residents' spaces in London, including one of London's largest private swimming pools (30 m), a bespoke wellness centre and state-of-the-art Technogym equipped fitness suite. Residents have further access to a private residents' lounge on the 39th floor, kids jungle gym, an 18-seat dining room, cinema room, karaoke room, business centre, library, and 24-hour concierge.
Once complete, Thames City will total more than 1,400 new homes, shops, restaurants and 120,000 sq ft of commercial space, set across 12 buildings in total centred around 2.5 acres of public open space – designed by landscaping specialists Gillespies - within the new `Linear Park'.
Prices for these premium Sky Collection homes at Thames City start from £6,636,000. For more information, please email This email address is being protected from spambots. You need JavaScript enabled to view it. or call 020 3912 0137, or visit www.thamescity.com.
For further details about Thames City or Harrods Interior Design, please contact:
Thames City:
Hannah Scheffler
E: This email address is being protected from spambots. You need JavaScript enabled to view it.
Harrods Interior Design:
Jack Marshall
E: This email address is being protected from spambots. You need JavaScript enabled to view it.
About Thames City
Thames City, in Nine Elms, is a thriving new riverside destination which will comprise more than 1,400 new homes, shops, restaurants and 120,000 sq ft of commercial space, in Zone 1 London. Delivered by global property developers R&F Properties (UK) and CC Land, and centred around 2.5 acres of public open space within the new `Linear Park', Thames City is perfectly positioned to access all that London has to offer. Located adjacent to the new Nine Elms Tube Station – served by the recently opened Northern Line Extension - and Vauxhall station, new residents will have quick and easy access to the West End and City of London in less than 10 minutes.
About Harrods Interior Design
Harrods Interior Design is a multidisciplinary practice of designers, architects and stylists committed to delivering exceptional interiors. With respect for the past and an eye to the future, we work closely with our clients to design homes with elegance and character. Contextual-referencing is a central concept to the Harrods Interiors design ethos and a constant source of inspiration behind the team's design style. Our approach is one of contemporary luxury, with a fundamental belief in the home being a true reflection of both the occupant and its surroundings.
Headed up by Letitia Fitzgibbon, Harrods Interior Design Hub is located at the heart of the Harrods home department, situation on the 3rd floor of the luxury department store. As a multidisciplinary collective, we offer everything from luxury interior design and light-touch refurbishment to seasonal styling solutions for all occasions, creating meaningful design narratives in a single room or across an entire home.
Email: This email address is being protected from spambots. You need JavaScript enabled to view it.
Website: https://www.harrods.com/en-gb/interior-design/
Telephone: 0207 225 5926
R&F Properties (UK)
R&F Properties is an international leading property developer for Luxury Real Estate, established in China 1994.
It is listed in Hong Kong and has a market capitalisation of around £3.6B, with a recent development pipeline equivalent to about 10% of the approximately 40,000 new homes expected to be built in London this year.
It aspires to provide positive real estate schemes across the world and works closely with local UK communities, businesses and stakeholders, to deliver the most appropriate schemes for the benefit of all boroughs.
R&F is today regarded as a leading property developer focused on the design, development, construction, sale, property management and property related services worldwide and officially licensed to develop high class property developments and provide Luxury Living.
---